When I headed out the door for my morning walk at 5:30 today, the temperature was 70º. Yesterday, it was 51º at that hour. Quite a difference, eh? Wednesday I wore long pants and a hoodie, Thursday it was shorts and a t-shirt. It felt like two different seasons within the span of 24 hours.
It was 90º by lunchtime.
And then the skies grew dark and ominous, the radar lit up, and a Severe Thunderstorm Warning was issued. The worst of it passed by just to the north; we got a little rain, some pea-sized hail, and that was that. The forecast for the next week calls for on-again/off-again chances. Some of the storms could be severe. I feel like we keep dodging bullets, whew. Our garden lives to see another day!
While I was busy working this week, Tara and her dad were prepping our boat for her journey home. They got the hitch and trailer installed yesterday, and Tara's truck handled it effortlessly. She said she could feel the extra weight when driving, but was able to accelerate and brake easily. Here's a sneak peek!
No fancy dinner tonight; I've still got leftover adobo. Since I probably won't make it again for another six years, I might as well enjoy it. I also picked some lettuce from the garden for a salad. Netflix just added The Karate Kid so I'm going to guilty pleasure my way through the first movie tonight. I always did enjoy those films and their cheesy 80s soundtracks. Wax on/wax off, indeed!
One reader commented yesterday, "You seem to be easily filling these eight days of posts." Well, I think she jinxed me, because today I hit a brick wall.
Not literally, thank god.
No questions and no blog awards? No bueno! On the verge of despair, I remembered our TableTopics cards. These award-winning conversation starter sets help millions of people spark fun and meaningful discussions with their family and friends around the dinner table, at parties, on road trips – wherever!
(Yes, I copied and pasted that from their website. I love the enthusiasm). Tara and I will sometimes bring them along when we go out to a bar (it's been ages!!) as they're a fun way to pass the time. So I grabbed a few, and voila! Instant questions. No humans required.
Q: What's the all-time best movie about time travel?

A: So many possibilities! Do I go with the nostalgic (Back to the Future), the goofy (Bill & Ted's Excellent Adventure), the dystopian (The Terminator), or the cerebral (Arrival)? In the end, I'm picking a film that is comically entertaining but also heartfelt: Bill Murray's classic, Groundhog Day.
Q: How many states have you visited and which was your favorite?
A: I've been fortunate to have traveled a lot growing up, thanks to an Air Force dad and bouts of wanderlust. The number is at least 41, but probably higher…these are the states I know with certainty I have visited. I suspect I've been to Arkansas, Louisiana, and North Carolina, too…maybe my mom can confirm? Pretty much everywhere but the deep south.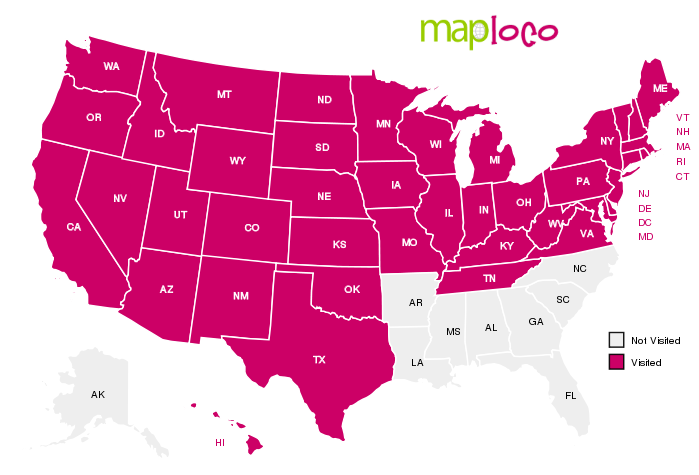 Create Your Own Visited States Map
My favorite? I like certain things about a lot of states. I feel silly picking the one I'm in now, but I wouldn't have uprooted my life and moved to South Dakota two years ago if I weren't pretty fond of the state. Let's just say it pushes all the right buttons at this stage of my life.
Q: How much does the news affect your day-to-day life?
A: What a timely question, ha. I try to ignore it as much as possible because it's so damn depressing these days. There's not much I can do about events beyond my control (other than heed the latest CDC guidelines or take an alternate route if there's gridlock). Because I live in South Dakota, there is never gridlock, so my answer is: very little.
Q: Have you or will you go to any of your high school reunions?
A: No and no. I only attended the high school I graduated from (in California) for my senior year, which royally sucked. I made no lasting connections, other than an ex-wife, and it has never felt like my real school. That honor belongs to Douglas H.S. in South Dakota.
Q: What are you hoping your life will look like when you're in your 80s?
A: I'd like to have a harem by then, and be healthy enough to enjoy it.
Tomorrow the office is closing at noon, so it'll be a nice 2.5-day weekend. Not sure what I'm going to do yet; probably not a lot, since the weather promises to be hot. If storms fire up, I might be tempted to chase them across the plains.